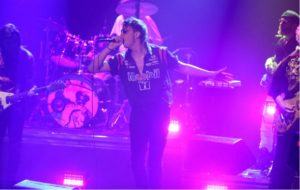 Watch Julian Casablancas explore a creepy cave in the wild video for The Voidz' 'Pyramid of Bones'
The part-live action, part-cartoon clip has arrived a day before the band will release their sophomore album 'Virtue'
The Voidz have released the strange visuals for their new single 'Pyramid of Bones', featuring frontman Julian Casablancas exploring a cave – check out the wild clip below.
The video for 'Pyramid of Bones' has dropped a day before The Voidz are set to release their sophomore album, 'Virtue'. That record will follow the band's 2014 debut LP 'Tyranny'.
Ahead of the release of 'Virtue', The Voidz have shared the bizarre, part-cartoon, part-live action video for the track 'Pyramid of Bones' – part of which sees Casablancas leading his bandmates in exploring a creepy cave. Check out the clip below.
You can see the full tracklist for 'Virtue' – which is out tomorrow (March 30) – below.
1. Leave It In My Dreams
2. QYURRYUS
3. Pyramid of Bones
4. Permanent High School
5. ALieNNatioN
6. One of the Ones
7. All Wordz Are Made Up
8. Think Before You Drink
9. Wink
10. My Friend the Walls
11. Pink Ocean
12. Black Hole
13. Lazy Boy
14. We're Where We Were
15. Pointlessness
Earlier this month, Casablancas made headlines after he argued how the "whole mainstream resistance" to Donald Trump "completely misses the point" because the President is "just like a symbolic facade, puppet of the real problems".
"The dissident voices like Martin Luther King and Malcolm X, you used to see them a little bit in the mainstream," Casablancas said. "And now it's so repressed that people have to go to like, Russia Today, to speak their opinion, and now they're trying to shut Russia Today down."
Page View:579 Site View: 167547