The EPRA- Leadership and Entrepreneurial Awards 2023 final nominees are listed below.
Congratulations to all nominees!
EPRA, Leadership and Entrepreneurial Awards evening is set out to recognize the outstanding leaders and entrepreneurs which have shown exemplary leadership core values and continuing commitment to leadership excellence.
The award is billed to be the greatest relaxation and realization of the achievements of individuals in society. At EPRA we celebrate personalities who have impacted in no small measure, the collective psyche of their immediate, national, or global communities. To be precise, the award is exclusively for business leaders as they have the unique opportunity to use their powerful leadership abilities, knowledge, and energy to strengthen the economic status and provide resources and prospects for others who may need assistance in building and developing business.
The Awards provide precisely the right environment for these corporate leaders to inter-mingle and share their experiences, therefore providing valuable insight on particular aspects of the business world. Another major objective of this award is to facilitate the development of future business leaders by providing opportunities for its guests.
Join us Friday 29th September 2023 at the prestigious Regency Banqueting Suite, 113 Bruce Grove, Tottenham, London. N17 6UR.
Time: Red-Carpet/Networking, 6.30 pm, Main Event 8.00 pm till late night, as we unfold the true leaders and entrepreneurial of distinct.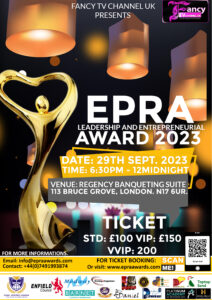 Tickets: STD £100.00 VIP – £150.00 – VVIP £200.00

For sponsorship, partnership, support, exhibition and brochure advertisements
Email: Info@epraawards.com or call +44 (0)7491993874.
Don't miss out…
You can benefits from our Early Bird ticket Booking as the promotion will be end in second week in August due to limited space.
CLICK ON THE TICKET BOOKING LINK TO SECURE YOUR SEATS
OR SCAN THE QR CODE.
EPRA 2023 Special Guests of Honour.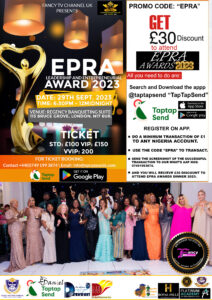 We appreciate each and every donor for sharing our vision to strengthen our important mission and work. Your support has an impact on the services we provide to build the young future generation and celebrate the unsung hero across the world. Part of financial contributions are used solely to support our outreach, services, and event programs.
PLEASE HELP TO SUPPORT THE VISION: CLICK TO DONATE TODAY!
Contact us on +44(0)7491993874 or use our PayPal Account. Email: paypal@epraawards.com.
Thank you for your generosity, please don't hesitate to contact us for any information,
Page View:5916 Site View: 574603