The FancyTV Channel has revealed the EPRA Award Winning Actress and Filmmaker Roseline Sanni Ajose (RSA) and Veteran Nollywood Actor Lanre Balogun as the host of the EPRA, Leadership and Entrepreneurial Award 2022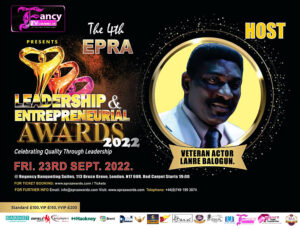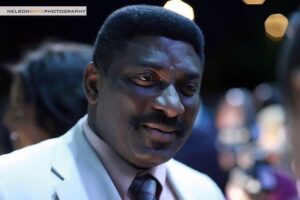 Multi Award Winning Veteran Lanre Balogunis famous actor in nollywood industary, a true thespian of many years of Experiences.
Lanre Started his Acting Journey on Stage with George Ogunde' in the late 70's Moved on to Television with The Famous Koko' Close of NTA Ibadan as Dectective Osakwe in the Early 80's …Migrated to Lagos where he was involved in notable outings like FESTAC 89' for the American Black Festival Month, after impactful notables with Tade Ogidan for award winning Reign of Abiku a Television Award winner for NIFETEP 86' long before the contemporary Nollywood as we now know it, also future in many award wining Television Productions , like HOSTAGES, THUNDERBOLT (MAGUN) With Tunde Kilani, MADAM DEAREST,  OWO EJÈ …AIYE JOBELEEE' , ENU KINIUN NI OWO WAA, To name a few and most recently on DSTV. Worked with PMAN' to Raise Funds For Sanni Abacha Foundatio. Co' Directed King Sunny Ade's Popular Musical Video With Charley Boy, Tittled 'Make We Work For Better Naija''
To mention a few of his Artistic Exploits.
Multi Award Winning Roseline Sanni Ajose is an international Actress/Movie Producer/Writer. She studies Health and Social Care Advance Level at Southgate College. Diploma in Adult Nursing, Kings College University. She later further her education in Middlesex University to study Advance Diploma in Peri-Operative Nursing Care and teaching programme (Mentorship). Thereafter had BSC in Critical Care Nursing Anaesthesia in King's College University. She later proceed to International Correspondent School London to obtain Certificate in Leadership and Management. In 2010 she studied Screen Acting and Drama at City Academy London. She is a multi awards winning movie producer.
Roseline Sanni-Ajose Acted in her first movie titled "Promise" (2005) Produced by Nelson Spky Productions.
Yoruba Movie titled "Oriyomi" (2010) Produced by Femi Fadeyi. Manncomm Productions Nigeria.
In 2010, Roseline Sanni –Ajose formed and Registered her own Production Company. Inspiration Production Limited (Registered in UK and Ireland)
2010, Produced a Movie titled "Life! Living it!" By inspiration Production and Steve Nash Productions
EPRA, Leadership and Entrepreneurial Awards evening is set out to recognize the outstanding leaders and entrepreneurs which have shown exemplary leadership core values and continuing commitment to leadership excellence.
The award is billed to be the greatest relaxation and realization of the achievements of individuals in society. At EPRA we celebrate personalities who have impacted in no small measure, the collective psyche of their immediate, national, or global communities. To be precise, the award is exclusively for business leaders as they have the unique opportunity to use their powerful leadership abilities, knowledge, and energy to strengthen the economic status and provide resources and prospects for others who may need assistance in building and developing business.
The Awards provide precisely the right environment for these corporate leaders to inter-mingle and share their experiences, therefore providing valuable insight on particular aspects of the business world. Another major objective of this award is to facilitate the development of future business leaders by providing opportunities for its guests.
Join us Friday 23rd September 20232 at the prestigious Regency Banqueting Suite, 113 Bruce Grove, Tottenham, London. N17 6UR.
Time: Red-Carpet/Networking, 6.30 pm, Main Event 8.00 pm till late night, as we unfold the true leaders and entrepreneurial of distinct.
Tickets: STD £100.00 VIP – £150.00 – VVIP £200.00
Don't miss out…
Page View:94 Site View: 42694