Sir Keir Starmer bundled into back of police car after being mobbed by protesters shouting 'Jimmy Savile' at Labour leader
The Labour leader is escorted to safety by police after being mobbed by a group of anti-COVID lockdown protesters in Westminster. And there's fresh condemnation of Boris Johnson as some of the group were heard to be referencing the PM's Jimmy Savile claim about Sir Keir Starmer.
Labour leader Sir Keir Starmer has been bundled into the back of a police car after being confronted by protesters shouting "traitor" and "Jimmy Savile" at him.
The incident brought fresh condemnation of Prime Minister Boris Johnson, who last week made a discredited claim that Sir Keir personally failed to prosecute Savile, a prolific sex offender.
In pictures posted on social media, the Labour leader was seen walking near to Parliament surrounded by police officers while being mobbed by a group, some of whom were protesting against COVID measures.
A member of the group surrounding Sir Keir, was overheard making a baseless claim, by shouting: "Why did you let Jimmy Savile off?"
While one of the group, supporters of what they called a "freedom convoy" and "freedom movement", was heard accusing the Labour leader of "protecting paedophiles".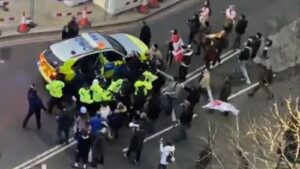 Moments after the incident, Sir Keir was led to a nearby police car before being driven away at speed with the vehicle's lights flashing.
Conservative MP Julian Smith, who served as a cabinet minister under Mr Johnson, posted on Twitter: "What happened to Keir Starmer tonight outside parliament is appalling.
It is really important for our democracy and for his security that the false Savile slurs made against him are withdrawn in full."
Responding to Mr Smith, fellow Tory MP Robert Largan – who was elected to parliament as part of Mr Johnson's landslide 2019 general election victory – said: "I agree with Julian. Words matter.
Senior Conservative backbencher Sir Roger Gale, who has submitted a letter of no confidence in Mr Johnson, expressed his fear that the "grim scenes" were "the direct result of the deliberately careless use of language" in the Commons chamber.
Tobias Ellwood, another senior Tory MP who wants a confidence vote on Mr Johnson's leadership, called on the prime minister to apologise and added: "Let's stop this drift towards a Trumpian style of politics from becoming the norm. We are better than this."
Liberal Democrat leader Sir Ed Davey tweeted: "These are shocking images. Sending all my best to Keir, his team and his family.
"The fact they were allegedly shouting 'Jimmy Saville' [sic], shows that Boris Johnson's words have real-life consequences."
Labour MP Chris Bryant, the chair of the House of Commons standards committee, said: "This is what happens when a prime minister descends into the gutter and recycles lies from hard-right conspiracy theorists.
Sadiq Khan, Labour's London mayor, expressed his "solidarity" with Sir Keir and shadow foreign secretary David Lammy, who was walking with the Labour leader at the time of the incident, as he thanked the police for their actions.
"This is what happens when fake news is amplified and given credibility by people who should know better," Mr Khan added.
Scottish First Minister Nicola Sturgeon said: "Any politician choosing to weaponise online conspiracy theories against opponents knows fine well that they risk stirring up the kind of hate and abuse that Keir Starmer experienced today.
Lord Walney, the former MP and the government's independent adviser on political violence and disruption, said: "The footage of Sir Keir Starmer being hounded tonight is disturbing, as is the way some of his pursuers picked up on the Jimmy Savile slur.
"This is surely a moment for the PM and all those who have defended those words to reflect and withdraw."
Mr Lammy said it was "no surprise the conspiracy theorist thugs who harassed" himself and Sir Keir had repeated Mr Johnson's "slurs".
"Intimidation, harassment and lies have no place in our democracy. And they won't ever stop me doing my job," he added, as he thanked those police officers who "helped get me safely back to parliament".
Page View:101 Site View: 108524