They are talented actresses known for their daring looks on the red carpet as they arrived at the UK premiere of their new Disney film The Nutcracker and The Four Realms at London's Vue Westfield on Thursday.
Keira, 33, who plays the Sugar Plum Fairy in the flick, dressed to impress in an off-the-shoulder frothy lace gown, which cinched in at her slender waist with a satin pink sash.
Steal the show in a Chanel dress like Keira's
It's safe to say Keira Knightley stole the show when she attended the premiere of The Nutcracker and The Four Realms in London. The actress was decked out in a Chanel gown, which featured an off-the-shoulder neckline, cinched waist and billowing ruffle skirt.
This look oozes fairytale glamour and, with the festive season just around the corner, it's certainly inspiring our party outfit ideas. Bravo to stylist Leith Clark for adding Nicholas Kirkwood heels too. It hails from the Chanel Spring 2015 Couture show, making it positively vintage!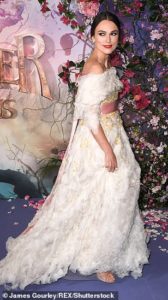 Of course that means it's not avaulable to buy, so instead we've scoured the web for shoulder-baring dresses like Keira's and listed our favourite finds below. Whether you splurge on Roberto Cavalli or bag a bargain at Boohoo, you're bound to be belle of the ball. Team your chosen gown with nude accessories for a refined finish.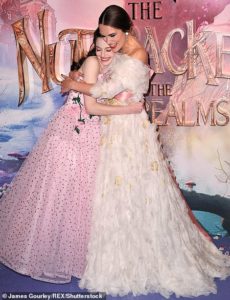 The Pirates of the Caribbean star's raven tresses were styled sleek and straight and gathered into an elegant chignon, while smoky shadow, liner and scarlet lipstick accentuated her striking features. She was joined at the premiere by co-star Ellie Bamber, who plays Louise in the film, with the 21-year-old actress looking sensational in a flirty strapless ballgown.
The skintight bodice was decorated with multicoloured crystals, with a blush pink leather belt accentuating her trim waist.  The dazzling gown flared out into a rose puffball skirt comprised of soft feathers. The star boosted her height with metallic stilettos.
Her ginger tresses were pulled into a sleek updo while her pretty features were adorned with a radiant dusting of make-up. The Disney interpretation of E.T.A. Hoffman's story-turned Tchaikovsky ballet stars Mackenzie Foy, 17, as Clara.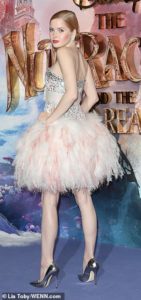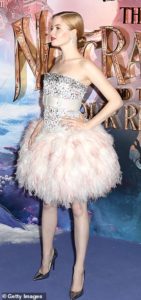 Ellie Bamber, who plays Louise in the film, with the 21-year-old actress looking sensational in a flirty strapless ballgown
The Nutcracker and the Four Realms is set to hit cinemas on November 2 and also stars Helen Mirren, Richard E. Grant and Morgan Freeman. The young girl is led into a mysterious world by a golden thread given to her by her godfather, played by Morgan Freeman at his annual Christmas party.
Clara embarks upon a mission to find a special key to unlock a priceless possession of her late mother's which leads her to a mystical parallel world, where she meets the Sugar Plum Fairy played by Keira Knightley.  Clara uncovers three Realms within the mysterious place: Land of Snowflakes, Land of Flowers and Land of Sweets.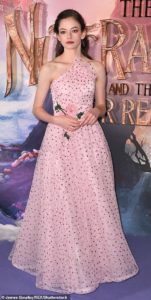 Mackenzie Foy, 17, looked stylish in a one shoulder polka dot gown
The young girl must brave the ominous Fourth Realm, home to the tyrannical Mother Ginger, played by a flame-haired Dame Helen Mirren, in order to retrieve the special key in a bit to restore harmony to the unstable world. In addition to the video clip, Disney also released the official poster for the film, which set to be released on 2 November. The movie was directed by Lasse Hallström (who previously directed Chocolat, starring Johnny Depp) and Joe Johnston (who directed the original Jumanji film, which stars the late Robin Williams).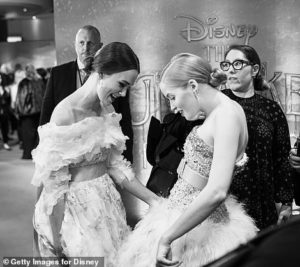 Page View:180 Site View: 108615