HRM Alaiyeluwa Oba Babatunde Olaogun Ogunlaja (JP) Kalejaiye 11 was awarded a surprise Special Recognition – Outstanding Culture & Tourism for Sustainable Development Awards.
HRM Alaiyeluwa Oba Babatunde Olaogun Ogunlaja (JP) Kalejaiye 11. The Aladeshoyin of Odo Noforija Kingdom, Eredo Local Development Authority, Epe Division of Lagos State was awarded
Over six decades ago, a boy was born into the family of late Pa Chief Michael Obayomi and Madam Christiana Adesola Ogunlaja. Pa Chief Michael Obayomi was then the Oloritun and head of Oligbe Ruling House. That boy was the third and only son of his father's five children. His late grandfather was Ogunlaja, Ogunbotu under the lineage of Magunshen and Kalejaiye Ononlu family of Oligbe Ruling House of Odo-Noforija. That baby boy was Babatunde Olaogun Ogunlaja who became the (twelfth the second period, or the seventeenth since the foundation of the Aladeshonyin dynasty of Odo-Noforija Kingdom) Today he is the present Oba Aladeshoyin of Odo Noforija Kingdom, HRM, Alaiyeluwa, Oba Babatunde Olaogun Ogunlaja, Kalejaiye 11, The Aladeshoyin of Odo Noforija Kingdom. It was also noted that Oba Ogunlaja's mother Christiana Adesola is also from a Royal family in Odo-siwoloye. So he has royal blood flowing in his veins both paternal and maternal.
Oba Babatunde Ogunlaja after his educational school proceeded to Lagos, where he gained employment as a store-keeper with a British Company and afterwards with Ilupeju Supermarket then at Obanikoro, Lagos. He also took a course in Electronics among other part-time courses.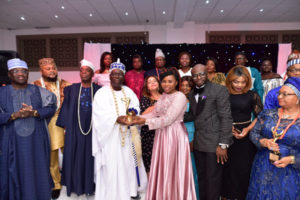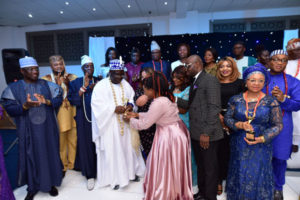 He worked as a Director with Enterprise Gomez (Nig) Limited and later set up his personal business as an importer and exporter, his major business was exporting used cars for sale in Nigeria.
It was John C Maxwell who said ''the truest measure of leadership is influence'' Today his HRM Oba Babatunde Ogunlaja is one of the most influential, gallant, patriotic, eloquent and valuable Royal Fathers in Nigeria.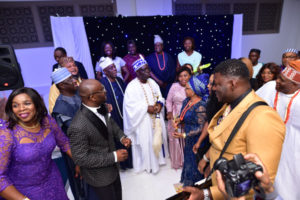 Oba Babatunde Ogunlaja is prominent among Lagos State Council of Obas. Highly ranked and respected Oba Babatunde Ogunlaja's love for education, community development, culture and tourism as well as societal growth is second to none. He uses all available influence to attain the betterment and achieve development of his people. Kabiyesi is not only responsible for those in his kingdom alone he has significant impacts on the lives of those who came his way. He is trusted and respected amongst his subjects both at home and in the diaspora. He recently led his subjects in the UK on a courtesy visit to the Nigeria's Ambassador to the United Kingdom, His Excellency Ambassador George Adesola Oguntade CFR, CON.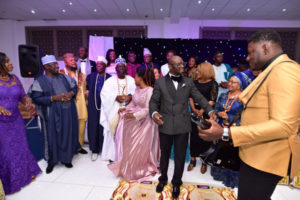 Calvin Colidge said 'no person was ever honoured for what he received. Honour has been the reward of what he gave. Oba Babatunde Ogunlaja has received numerous awards both at home and in the diaspora because of his numerous contributions in various fields which time may not permit us to enumerate. However he was given the Royal Icon of Humanity and Icon of democracy award by Lagos Focus and National Association of Nigerians Students (NANS). He also received an award in the United State of America during the Festac-USA celebration of African Culture in Houston amongst others.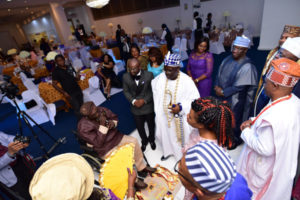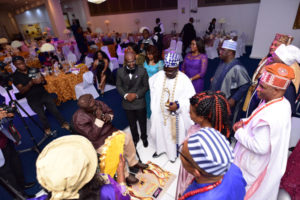 Oba Ogunlaja though a traditional ruler is a philanthropist per excellence. He is always giving and giving and not waiting for what his subjects will bring to him. It will interest you to know that our amiable Oba has sponsored people on Holy pilgrimage to both Mecca and Jerusalem respectively.
Your worshipful, distinguished guests, ladies and gentlemen, I present to you HRM Oba Babatunde Olaogun Ogunlaja JP, former secretary and presently member Lagos State Council of Obas and Chiefs also member Lagos State Justices of Peace, the Aladeshoyin of Odo Noforija Kingdom, Eredo Local development Authority, Epe Division of Lagos State for this prestigious award for his outstanding contributions to culture and tourism for sustainable development.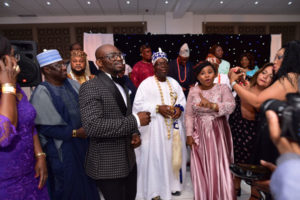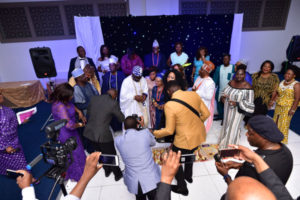 Page View:1507 Site View: 325616