HRH Prince Tade Olusile Received EPRA, Leadership and Entrepreneurial Award 2019 Outstanding Good Samaritan Lifesaver Award presented by Cllr. Voctoria Obaze the Speaker London Borough of Tower Hamlets.
HRH Prince Tade Olusile was born in Ibadan to the Royal Family of Olusile Oguja Olu-Isa of Ijebu-Ode, is the CEO of D-BLAZE Entertainment UK. He manages Nollywood movies, celebrates and signs up musical artists and is ever in search of new and upcoming artists in the music and entertainment world. Prince Tade has the love for the entertainment world, he is an actor and has recently acted in several UK Nollywoodmovies including blockbuster, 'WHO AM I". In 2014 HRH Prince Tade Olusile became Honorary Fellow Institute Of  Information Management (HFIM), in 2016 Prince TadeOlusile also won Outstanding Achiever of The Year 2016 (African super Hero awards).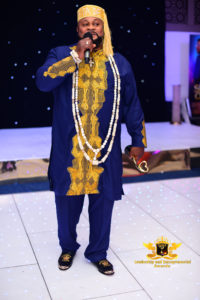 In the same year Prince TadeOlusile was recognised as Best Promoter in Diaspora UK and Europe. In 2017 Prince Tade Olusile was recognised with BE IT PURPOSE EXCELLENCE ( BIPER AWARDS).Prince Tade has devoted time to bring about change to the world of entertainment and over the years his passion has been established and recognised by major event organisers in the UK. Due to his devotion, there has been a tremendous turn around in the entertainment world in the UK. Prince TadeOlusile is happily married and blessed with lovely children and adds that "Children should be nurtured and trained to be successful and productive citizens in society. I strongly believe that young people should be encouraged and also celebrated. One of the main aims behind the planning of the successful FIRST DBE Music Awards 2017 was to showcase young artists and promote their talent alongside established artists" The prestigious event was held at The Old Town Hall in Stratford, London and the turnout was incredible. Actors, musicians, media professionals and dignitaries all turned up to witness the First DBE Awards promote excellence in music and entertainment.