Standout star of The X Factor 2018, Dalton Harris, scooped the title of champion on Sunday night's grand finale. The Jamaican-born 24-year-old, who was mentored by new judge – and former X Factor contestant – Louis Tomlinson, performed his winner's single, teaming up with another former winner James Arthur to cover Frankie Goes To Hollywood's The Power Of Love. Dalton beat runner-up Scarlett Lee to the crown, both knocking third place Anthony Russell out of the running.
Eight years ago aged 16, Harris entered a similar talent competition called Digicel Rising Stars in Kingston, Jamaica. He won and claimed the prize money of one million Jamaican dollars, equivalent to more than £6,000. Under the mentorship of his manager Donovan Germain, Harris finished his education and four years later his track Pauper went to number one in the Jamaican dancehall chart. Harris went on to release three albums, but his popularity began to wane.
He flew from the Caribbean to London to take part in the audition stages of this year's X Factor, hoping to reboot his career by impressing the judges. In front of this year's panel – Robbie and Ayda Williams, Louis Tomlinson and Simon Cowell – the 24-year-old vocalist sang Sorry Seems To Be The Hardest Word by Elton John.
After successfully making it through the six chairs challenge, Harris performed Listen from the musical Dreamgirls at the judges' houses.
He swept into the final, where his emotive duet with James Arthur led to him being crowned X Factor champion.
But aside from the stomping success of the consistently-excellent Dalton, viewers of the show nearly turned off moments after it started airing on ITV, thanks to the 'weird' opening act. The premise behind this was that Simon Cowell's son, Eric, four, had 'taken over' from his dad and authorised the opening act, as set up by a VT at the start of the show.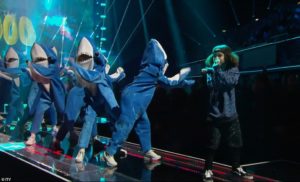 Fans of the series – half of whom arguably might not have children – didn't have a clue what they were seeing unfold on their TV screens as a group of people dressed as sharks took to Wembley Arena and chanted the lyrics 'Baby shark, doo doo doo doo doo doo, Mommy shark, doo doo doo doo doo doo, Grandma shark, doo doo doo doo doo doo, Let's go hunt, doo doo doo doo doo doo!'
K-pop bands then caught on, performing the routine at their own concerts and last summer the Baby Shark Challenge swept the net. It's gaining on racking up two billion YouTube views and ended up in the UK Top 40, beating names such as Keala Settle and Cardi B.
The performance somewhat overshadowed the fact that 'serious' artists, Dalton, Scarlett and Anthony were battling out for a record deal with Cowell's label, SyCo. It's not been a stellar year for The X Factor – and so perhaps the opening performance of the 15th season's grand finale was, in fact, befitting.
As the dust settled on the shark situation, the competition was able to get to business, with each of the finalists taking to the stage to perform their would-be winners' single, should they take home the crown.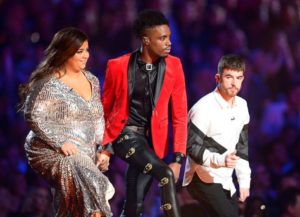 Anthony was first, singing I Predict A Riot, originally made famous by Kaiser Chiefs. In a shock appearance, Ricky Wilson – Kaiser Chiefs front man – cropped up, dueting with the 28-year-old Liverpudlian.
Scarlett was joined by former X Factor champion Leona Lewis, singing her 2013 Christmas hit One More Sleep as her winner's single.
The episode was peppered by other guest stars, including Ellie Goulding and Nile Rodgers – the latter of whom has appeared sporadically across the entire season at Tomlinson's Judges' Houses round with Liam Payne, and as Robbie Williams' stand-up while he had to sit two weeks of live episodes out thanks to touring committments.
When asked by hosts Dermot O Leary whom they felt was the deserved champion, both Ellie and Nile were in agreement that Dalton stood out a mile.
Robbie also performed on Sunday night, joining his sometime-band mates, Take That, on stage to celebrate the group's 30th anniversary.
Mark Owen, Howard Donald and – another former X Factor judge – Gary Barlow linked up with Robbie for a white-tuxedo'd rendition of hits Shine and Everything Changes.
Robbie had performed on Saturday night's first part of the finale weekend, too; taking to the stage with all of the season 15 finalists from across the past two months, and then with Scarlett for a duet.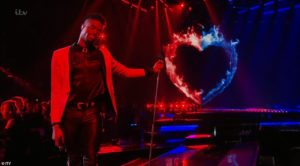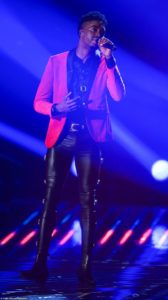 Dalton's cover of the Frankie Goes To Hollywood Christmas classic, originally released in 1984, was made immediately available as he was crowned the winner, with proceeds being donated to children's hospice charities, Together For Short Lives and Shooting Star Chase.
Dalton has been the highest charting X Factor act on iTunes, with four of his songs entering the iTunes Top 30 so far, including I Have Nothing, Creep and California Dreamin', while his Big Band Week performance of Beyoncé's Listen peaked at No. 15, the highest peak of the series.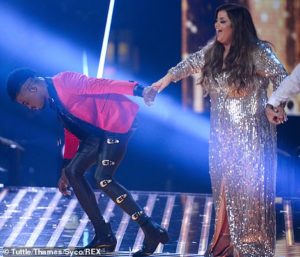 His odds of scooping this year's coveted Christmas No. 1 spot are 1-3, with Coral's John Hill saying: 'Dalton Harris has given many punters an early Christmas present by winning X Factor where he was heavily backed from very early into the series. Punters are now backing Harris to have the Christmas No. 1 single and to top the singles charts in 2019.'