Her Worshipful the Mayor London Borough of Enfield Cllr Saray Karakus  Endorsed EPRA Awards 2019.
EPRA, Leadership and Entrepreneurial Awards is set out to celebrate outstanding leaders and remarkable organisations, which have shown exemplary leadership core values, norms, characteristics and continuing commitment to leadership excellence.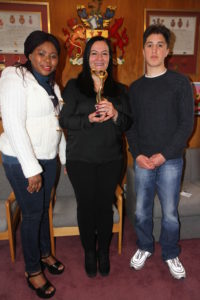 Date: Friday 27th September 2019. Book now before tickets are sold out.
Nominations still on till Friday 31st May 2019.
Think of someone who deserves to be recognized for their outstanding contribution, achievements in public life, and/or their commitment to serving and helping others.
Create an opportunity for them to be celebrated for all their hard work by nominating them for EPRA-Leadership and Entrepreneurial Awards 2019.
Honours are a distinctive way of acknowledging someone's achievements, rewarding people who have made a real difference to society.
FOR DINNER TICKET BOOKING VISIT:
For sponsorship, partnership, magazine advert or any other informations email: 
info@epraawards.com
Hotline number: 44(0)7491993874 / 07459952933.
EPRA 2019 PROUDLY SUPPORTED BY