Psa Omoba is a gospel musician of repute and high integrity. He hails from a royal family in Ilesa, Osun State in the Western part of Nigeria. He is a self-taught keyboardist, song writer, band leader, music producer, director of music, music consultant and a motivational speaker . PSA as he is fondly called by his teeming admirers, started composing songs at a very tender age.
He has been director of music in various churches in Nigeria and in the United Kingdom.
A producer and arranger of note and high integrity, Psa is a role model who is an institution that blesses his generation. Anytime he releases his album to the market, even musicians lay their hands on a copy because its a source of inspiration to them and they also believe that there must a new thing to learn. He is very creative. Coming from a humble background and toiling day and night, Psa Omoba has paid many a prize in his determination to impact his generation positively.
Since his first music album released, he has succeeded in revolutionising gospel music in blending various African and contemporary genres like apala, highlife, succoss, fuji, eyo chant, dance ballard, afro beat, dadakuada, suaili, classical, acapella, funk, jazz, rap, hip pop, indian, french, latino, etc. to form a rich and danceable style thereby breaking such barriers as of age, status, belief and race. He strongly believe in using african percursions.
He put together a yearly free concert and music workshop here in the United Kingdom his home where he bless and help the growth of gospel music in churches which attracts crowd because it is of high standard.
He is a voice for the oppressed who use is music skills to do Acapella video and post it on social media to address some bad issues. He also do a live video broadcast in some occasion to create awareness of some bad issues and the solution.
He is  kind hearted and believes in helping the poor. He also post motivational words or write ups on social networks.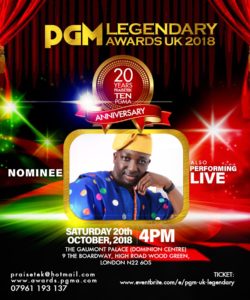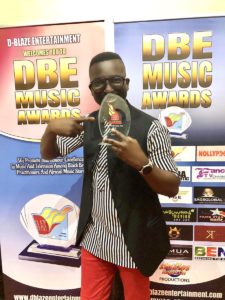 The Multi Awards winning gospel singer Psa Omoba and his band has featured as guest in Christain concerts, marriage receptions, charity programs, birthday ceremonies, funerals,
churches, radio and television programmes. He is the founder of Psa Omoba Praise World outreach whose vision is to be a One-Shop Place of Music – Ministry, Production, Promotion,  and motivational speaker helping people to bring out the best talent in them and lift up the almighty.
Psa is a man who is constantly seeking and willing to learn and improve . He is a firm believer in the power of God to save, deliver and bless men through the ministry of music and motivation. Psa Omoba is person who believe that 'with music, the whole world is one family and all men are brethren'. He is never satisfied, he always say ' i've not started'. Prince is also into charity-helping the poor and needy.
His main vision is to lead people into God's presence.
He has released five powerful albums and four singles to his credit and has mentored many gospel artiste both in Nigeria and United Kingdom.
Psa Omoba has bagged series of  awards.
…The Concert Journey…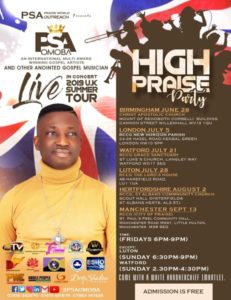 UK Concert Date and Destinations
June 7 (Friday) 6pm-9pm -London Summer Gospel Music Workshop.
(For Church Musicians, Choristers and Gospel Artiste)
Victory Church of Christ. 10-12 Lamb lane, Hackney, London E8 3PL
Birmingham
June 28 (Friday) 6pm-9pm
Christ Apostolic Church Mount of Rehoboth Corbelli building
Cannon street, Willenhall. WV13 1QU.
London 
July 5 (Friday) 6pm-9pm
RCCG New Horizon Parish, 24-26 Hazel Road
Kensal Green, London. NW10 5PP.
Watford
July 21 (Sunday) 2:30pm-5pm
RCCG Grace Sanctuary, St Luke's Church,
Langley way, Watford. WD17 3EG.
Luton
July 28 (Sunday) 6:30pm-9pm
RCCG The Lord's House, 48 Harefield Road, LU1 1UA
Hertfordshire
August 2 (Friday) 6pm-9pm
RCCG, St Albans Commnunity church.
Venue: Scout Hall Oysterfields St Albans Herts, AL3 5TJ.
Manchester
Sept 13 (Friday) 6pm-9pm
THE REDEEMED CHRISTIAN CHURCH OF GOD (CITY OF PRAISE)
St  Paul's Peel Community Hall, Manchester Road West,
Little Hulton, Manchester. M38 9EG.
COME WITH A WHITE HANDKERCHIEF (Will be used as a wave offering unto God)
ADMISSION IS FREE for all the events.